Hon'ble Mr. Justice Songkhupchung Serto
Born on 1st March, 1961 at Sagang Village, Churachandpur District, Manipur. Completed graduation from St. Anthony's College, Shillong (NEHU) and obtained LL.B. Degree from Law Faculty, Delhi University. Enrolled as an Advocate in 20.02.1986 and joined Manipur Judicial Service, Grade III on 16.05.1992 after practicing Law for more than 6 years at Bar. Promoted to MJS Grade II on 10.12.1997. Served at all the Districts of Manipur, except Chandel and Bishnupur. Deputed to Imphal Bench of the Gauhati High Court as Deputy Registrar (Judicial) on 29.09.2011. Appointed as Registrar of the same Bench on 19.03.2012 after promotion to MJS Grade I. Appointed as the first Registrar General of the High Court of Manipur on 25.07.2013 after the High Court of Manipur came into existence and when the post of Registrar General was sanctioned. Elevated as Additional Judge of High Court of Manipur on 14th March, 2016. Transferred to Gauhati High Court and took oath as Additional Judge, Gauhati High Court on 3rd October, 2016.
Parent High Court
Stream
Date of Birth
Date of Elevation
Place of Stationing
Manipur
Manipur Judicial Service
01.03.1961
03.10.2016
Kohima Bench, Kohima 03.10.2016 till date
Portfolio Judge for Peren, Dimapur, Kohima, Phek, Zunheboto and Kiphire districts of Nagaland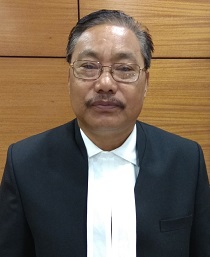 Hon'ble Mr. Justice S. Hukato Swu
Shri S. Hukato Swu, son of Late Scato Swu, Born at Satakha on 01.01.1960. Did his schooling from Goalpara Sainik School Assam, did his college from St. Anthony's College Shillong, obtained LLB Degree in 1986 from Delhi University Campus Law Centre- I, Delhi.
Appointed as Assistant Public Prosecutor cum Government Pleader in 1986. Appointed as Magistrate 1st Class cum Civil Judge Junior in 1990. Later promoted on 2003 as ADC (Judicial). Appointed as DC (Judicial) in 2004. Served as Member Secretary NSLSA, Special Judge Anti - Corruption, TDP Vigilance, Election Tribunal (Municipal), Member MACT, Special Judge CBI, Special Judge NIA, President Consumer Redresal Forum and Principal Judge Family Court. Was serving as Principal District & Sessions Judge till his elevation on 26.11.2019 as Additional Judge of the Gauhati High Court.
Parent High Court
Stream
Date of Birth
Date of Elevation
Place of Stationing
Gauhati
Nagaland Judicial Service
01.01.1960
26.11.2019.
Kohima Bench 01.01.2020 till date.
Portfolio Judge for Mokokchung, Longleng, Mon, Tuensang and Wokha Districts of Nagaland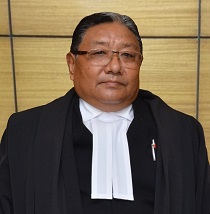 Hon'ble Mr. Justice Kakheto Sema
Parent High Court
Stream
Date of Birth
Date of Elevation
Place of Stationing
Gauhati
Bar
--
13.10.2021.
Kohima Bench 13.10.2021 till date.
Station Judge of Nagaland